Jessica Aldred
   looks back at some of the year's biggest wildlife and natural world stories – 16 December 2013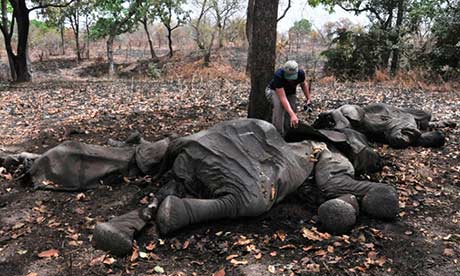 Demand for ivory destabilising central Africa – 18 June 2013
Arguably the biggest story of 2013 was wildlife crime, which escalated from a conservation issue to an international security threat. Driven by rising demand for ivory from east Asia, it has doubled over the past five years into a global trade worth $10bn, threatening political and economic stability in central Africa.
This month there were warnings that Africa could lose one-fifth of its elephants in the next decade if the continent's poaching crisis is not stopped. By the end of September, a record 704 rhinos had been killed by poachers in South Africa and 47 in Kenya this year. Figures showed two-thirds of forest elephants had been killed by ivory poachers in past decade.
Some high-profile massacres hit the headlines, with 86 elephants – including 33 pregnant females–  killed in less than a week in Chad, 26 elephants slaughtered at a wildlife-viewing site in the Central African Republic and 80 poisoned at a water hole in Zimbabwe.
While conservation groups looked to technology such as surveillance drones and GPS trackers to aid their efforts, park rangers lost lives and faced corruption fighting a one-sided war against increasingly militarised and organised gangs of poachers sometimes linked to terrorist groups like Al-Shabaab.
Prince Charles calls for war on animal poachers – 21 May 2013
With Prince Charles and his son the Duke of Cambridge calling for a "war on poachers", UK prime minister David Cameron announced he would host the highest level global summit to date on combating the illegal wildlife trade. In the US, the Obama administration said it would destroy all 6m tonnes of its ivory stocks and the Philippines crushed 5m tonnes of seized ivory beneath industrial rollers.
Read the rest of the article here at The Guardian